Indianapolis, IN – I was watching another electrifying episode of American Pickers last night when my phone rang. I hit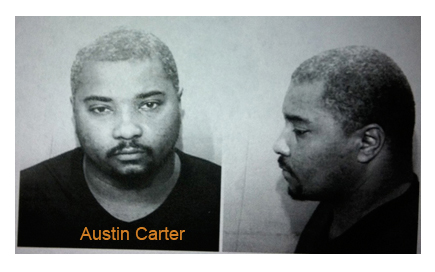 pause just as Mike Wolf was about to make an offer on a rusty Harley-Davidson bicycle frame. The call came in from Memphis. A high value fugitive was spotted living in a low rent hotel within ten miles of the Shelby County Jail.
I had received a number of similar, "I know where AC is located" calls since the time Austin Carter failed to appear for sentencing in June, 2011. Carter was looking at a lengthy prison sentence for multiple counts of attempted first degree murder, aggravated assault and using a firearm with intent to commit a felony. He allegedly attempted to kill his wife and kids.
Austin Carter is a really bad guy and we needed to get him back into custody. Not only to avoid $250,000 loss but because it's our job. It's what bail agents do.
During the thirty months Carter has been at large we had assigned the case to no fewer than four recovery teams working leads in Atlanta, Chicago, North Carolina and Mississippi. Carter proved elusive. These recovery teams enjoyed the cooperation of local law enforcement and the U.S. Marshall's Office. Everyone wanted this guy off the streets.
The forfeiture period eventually ran out and the bond had to be paid. That didn't slow us down. Tennessee law provides for a remission, refund that incentivizes the surety to continue its efforts to locate and return the defendant to the custody of the court.
Well, it turns out the tip was correct. Carter was staying in a local hotel damn near in the shadow of the Shelby County Jail. Because Carter was known to be armed and dangerous, our recovery agent requested assistance from the Memphis Police Department Fugitive Task Force who expertly hit the motel room and took Austin Carter into custody without incident.
Victims of crime are often overlooked when a criminal defendant fails to appear for court. Carter was charged with attempting to kill his wife and kids. They have had to live everyday of the last thirty months with the fear Austin Carter was roaming free. I'm sure the stress was unimaginable. This fact was not lost on us. Everyone benefits when the surety performs.
After several hundred man hours and thousands of dollars of private sector money spent, the Shelby County Jail welcomed back Austin Carter to their cozy confines last night about 11:40 p.m. The lecture he's sure to receive from the presiding judge will be the least of his worries.
With that done, it was back to Mike Wolf and that Harley-Davidson bicycle frame. I can't believe he paid $400 for that bucket of rust.