Michael J. Whitlock
Earlier this week the U.S. Court of Appeals for the Eleventh Circuit ruled against the Southern Poverty Law Center in the case of Schultz v. Cullman, AL. In layman terms, the court ruled bail need not be affordable but be sufficient to ensure the defendant appears for trial. A huge victory for the rule of law and a blow to soft on crime initiatives. These legal issues were well beyond me when I first started working in bail in the winter of 1981.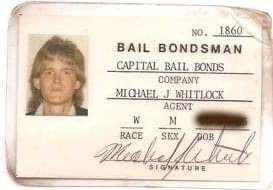 Having decided not to go to college, I needed to find a real job, so it was fortuitous I had received a call from my oldest brother Mark about some work. He was manning the third shift for Guarantee Bail Bonds in downtown Dallas. Mark asked if I wanted to run some bonds to various city jails. Even though I had no idea what that meant, I said yes. I ran a few bonds for him and within a few days, the bonding company owners hired me on fulltime as a bond runner. Of course, I had no idea this would be the onset of a lengthy career in the bail bond profession.
For the next 20 months, I would work for three different bonding companies posting bonds in Dallas County's various city jails: Addison, Carrollton, Dallas, Garland, Irving, Mesquite, and the Dallas County jail. I worked long hours and ran the wheels off my gold '78 Chevy Nova, I was having fun.
The procedure for posting bonds was significantly longer in 1982. Once the bond was underwritten, there were several steps involved in posting the bond that required multiple trips to the jail and waiting for the defendant to be release, which could take hours. There were no cell phones or iPads to occupy your time while you waited. While the process was not complicated the knowledge gained from the interaction with defendants and bond co-signors was immeasurable. From the questions asked, to the answers given and, in some cases, the obvious mistruths being told by the defendant and the co-signors, I was developing skills on how to read people. A valuable talent in the underwriting of bail bonds and financial risks, in general.
It was during this time I learned a life lesson that has stayed with me to this day. I was pulled over by Dallas PD one evening after work. I had outstanding warrants for unpaid speeding tickets. There was no talking my way out of it and off to jail I went. The Lew Sterrett Jail had just recently opened and still had that new car smell which made the experience a little more bearable. I was put in a pod with five individual cells, all to myself and the door was locked behind me. This sent shivers down my spine. I immediately wanted out of there.
I was only in custody for 12 hours before posting bond, most of that time was waiting on the release process. I came away from that experience with a new perspective and appreciation for people looking to bail out of jail and a personal vow to never put myself in that position again. I have never felt embarrassed or humiliated by that experience, although I can say with all seriousness, jail does suck. Personal freedom should never be taken lightly.
While I was busy cutting my teeth posting bonds and learning life lessons, my dad, Jack was busy selling his general agency to an Indianapolis based surety company, Allied Fidelity Insurance Company. As part of the deal, dad was hired to run the Dallas office for Texas Fire & Casualty, a company owned by Allied Fidelity.
As an aside, it would be much later before I learned my dad had sat on the Dallas County Bail Bond Board as a representative of the bonding companies and in the late seventies, he was part of the group of bail agents that founded the Professional Bondsmen of the United States. Dad and I would be among the first father-son duos to be inducted into the PBUS Hall of Fame, quite an honor.
Having believed I learned all I could about running bail bonds and knowing I would not be owning a bond office of my own anytime soon; I transitioned to the surety side of the business taking an entry level position processing claims at Texas Fire & Casualty. This is when I first met Tom Anderson who had started at TF&C a brief time earlier, we are still friends to this day. I also started wearing a suit and tie to work. I would come to appreciate the value of presenting a professional appearance.
While at TF&C I quickly went from setting up claim files and managing agent forfeitures accounts to learning how to underwrite large bonds, properly secure several types of collateral, and coordinate transfer bond transactions. My education on bail was growing in scope.
In early 1984, the news came TF&C was shutting down its Dallas regional office and moving operations to Indianapolis. Dad would assume the role of Vice President of Bail Division for Allied. As for myself, dad told me there was a job in Indianapolis if I wanted it. I did not take much time to answer; when do I start?
That May, I said goodbye to my friends and family members who were staying in Dallas, packed up the Nova and my brother Chris and I headed north for Indianapolis with Night Ranger's Sister Christian blaring on the radio. Stay tuned, you will not believe what happened next.