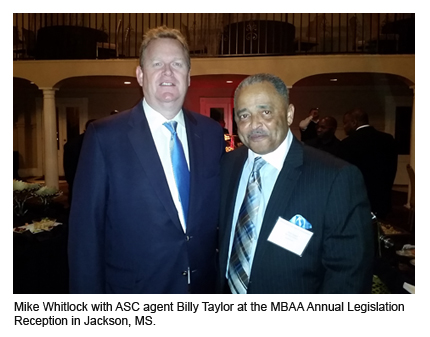 My 2015 travel schedule began with a trip to Jackson, Mississippi earlier this week to attend the Mississippi Bail Agents Association Legislative Reception and the MBAA Winter General Assembly Meeting.
The MBAA is one of the more successful state associations in the country, with an excellent track record at the state assembly and tremendous support from that state's licensed bail agents. Their meetings are expertly organized by MBAA President Patty Hodges and her Board of Directors.
The Legislative Reception for state legislators is an annual event and provides a great opportunity to discuss industry concerns with legislators or just get to know the peoples representatives. Every state association should follow the MBAA's example.
The membership meeting included two heavyweight speakers, Mississippi Lt. Governor Tate Reeves and Inspector Robert Kay from the US Postal Inspection Service. Lt. Governor Tate spoke of Mississippi's $409M Rainy Day Fund and reducing the state's outstanding debt by 350 million. Before he was done the Lt. Governor had us believing things were looking brighter in Mississippi. I sincerely hope that's the case.
The presentation by Inspector Kay was particularly interesting. He provided several suggestions on how to protect you from identity theft. For instance, he recommends you not sign the back of your credit cards forcing store clerks to ask for your ID to confirm ownership. Putting outgoing mail in your mail box that may contain checks or credit card information is not a good idea. Thieves are bold and will cherry pick your mail box in broad daylight. Take your outgoing mail to the post office whenever possible and never mail cash. Inspector Kay also urged everyone to check their credit reports regularly for alien transactions.
I'll miss the PBT meeting in Austin, Texas next week but will be attending the FSAA Annual Meeting in Tavares, Florida, January 29. I'm scheduled to speak at the PBUS Winter Meeting in Las Vegas next month. Try to attend if you can it should be another great meeting.