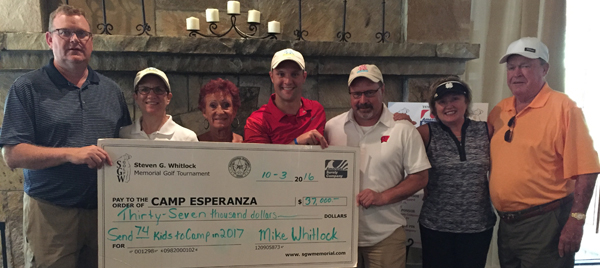 Check presentation to Camp Esperanza (L-R) Mike Whtilock, Lisa Langrehr, Marge Walstad, Logan Runde, Mike Runde, Doreen Bruner and Jack Whitlock
What the heck is going on? Well, you can find out when if you attend the American Bail Coalition's (ABC) inaugural Affiliate Agent Conference next month in Las Vegas.
The commercial bail advocates at ABC have been working non-stop the last several months opposing initiatives targeting the elimination of commercial bail. ABC has also been introducing initiatives and ideas to improve the system of bail and the criminal justice system as a whole.
ABC's team will be providing a myriad of updates on battles and initiatives occurring all across the country at their first conference November 9-10, 2016, at Mandalay Bay, Las Vegas, Nevada. The conference will also include a national data symposium, 2017 legislative strategy session and panel discussions on jail crowding, treatment bonds and accommodating indigent defendants.
The ABC Affiliate Agent Conference is open to all surety bail agents regardless if your surety company is a participating member of the American Bail Coalition.
This is the, can't miss conference of the year! You should absolutely attend, if you're at all interested in learning more about the threats to the commercial bail industry and ABC's efforts to keep bail agents in business. There will be a reception the evening of November 9 and a full day program November 10. I'll be there and I hope you will too. Click here to register for this must attend event.
Bail Agents Raise Money for Pediatric Cancer Patients
The 27th Steven G. Whitlock Memorial Golf Tournament was held earlier this week at the Golf Club at Twin Creeks in Allen, TX. The Professional Bondsmen of Texas is the partner of this annual event benefiting Camp Esperanza, a summer camp for pediatric cancer patients.
Largely due to the continued participation, contributions and support from bail agents and surety companies in Texas and around the country, this year's event raised funds sufficient to send 76 kids to Camp Esperanza in July, 2017. Many thanks to everyone involved. Click here to view the 2016 sponsors that made this annual event a tremendous success.