What profession can survive without a new generation of young people seeking an opportunity to etch out a career and strive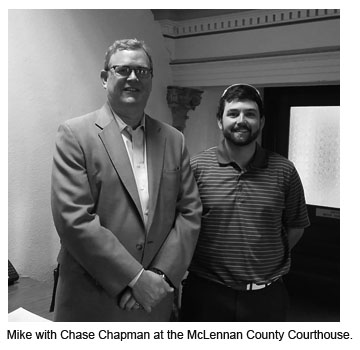 for prosperity in a chosen field? Commercial bail is no exception. Trained, experienced and enthusiastic young people are critical to our survival.
Earlier this week I traveled to Waco, Texas to attend a hearing before the McLennan County Bail Bond Board where a young Chase Chapman was seeking approval of his first corporate surety license appointment, the application was approved marking a pivotal moment in Chase' future in bail.
Chase is now officially a second generation bondsman. He's been around bail bonds all his life shadowing his father Terry in his bonding office and at the county jail. Documented experience is prerequisite to obtaining a bail license in Texas and Chase more than qualifies.
Bail is like few others in that you are always on the clock, your phone is always ringing and in most cases the jail is always open. Writing bail in Texas is particularly labor intensive. Homestead laws prohibit securing residential real estate as collateral so more emphasis is placed on regular contact with clients. This means daily check-in's by phone or in person as well as notifying all clients when they are next due to appear for court.
Chase has placed himself in a good position to do well in the bail bond business. He has put in the time, effort and training to give himself the best opportunity for success. With bail comes financial risk and it does not suffer well the untrained and inexperienced.
The bail profession needs young men and woman willing to undergo an apprenticeship with veteran agents before seeking out ownership. Individuals such as these serve to strengthen a profession that serves as the backbone of the criminal justice system.
Congratulations Chase I know you will make your father and fellow bondsmen proud.