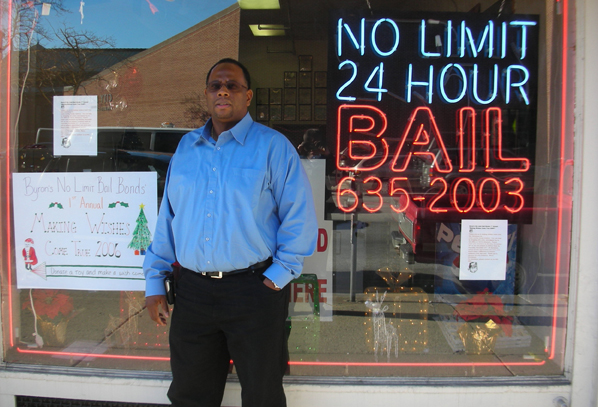 Yesterday, 19 year old Robert Dew was formally charged with the murder of veteran bail agent Byron Frierson, Sr., owner of No Limit Bail Bonds in Indianapolis, IN
The news of the loss of Byron came as a severe blow to those of us who knew and worked with him. Byron was a giant of a man, not only in size but in spirit and generosity.
Byron was a leader in his community and a leader in his profession, bail bonds. When local bail agents gathered to discuss issues they typically met in Byron's office at No Limit Bail Bonds. He was looked to for guidance and support. Byron and I talked often during his regular visits to American Surety Company's headquarters north of downtown Indianapolis. He was always interested in what was going on nationally with the bail bond business.
A veteran of 20 years in the bail profession, Byron had apprehended hundreds of fugitives without incident. He always worked with a team of professionals and was always prepared. The apprehension of Robert Dew took a tragic turn resulting in the loss of Byron's life. It brings attention to the risk to personal safety bail and recovery agents encounter every day when conducting apprehensions.
Services for Byron will be held Friday and Saturday in Indianapolis. Anyone wishing to assist the family with funeral expenses can send a check payable to Janice Frierson to American Surety Company and we will make sure Ms. Frierson receives your generous contribution.
On behalf of everyone at American Surety Company I want to extend our condolences to the entire Frierson family, Byron's friends and business associates who share in this great loss. Byron will be sorely missed.