A simple check of the Michiana Crime Stoppers website will highlight why the practice of granting criminal offenders a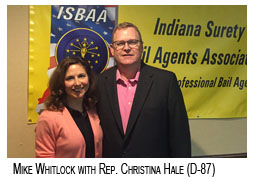 90% discount on their bail is woefully ineffective. The majority of Indiana counties release all or a portion of criminal offenders on cash bail equal to a mere 10% of the original bail amount. St. Joseph County, South Bend, Indiana and home to Notre Dame University is known for permitting nearly every criminal offender to post 10% cash bail and walk out of jail unsupervised.
As of May 9, 2016 Jason Pasley was a fugitive wanted for failing to appear for court in St. Joseph County on March 10, 2016. Pasely is charged with residential entry, battery and strangulation. Another fugitive Edward Johnson failed to appear April 13, 2016. Johnson is charged with Strangulation and domestic battery. Also failing to appear for court was Deonte Stutzman on February 28, 2016, on a charge of burglary. Where is the elected prosecutor in these cases? Who was the judge who determined that violent offenders should be granted a 90% discount on their bail? Who is looking for these fugitives? Is there no concern for the victims of these crimes or the general safety of these communities?
Indiana bail agents met in Indianapolis yesterday for the Indiana Surety Bail Agents spring meeting. At issue was the proliferation throughout Indiana of 90% discounted bail. Why are state legislators standing by while the bail system is high-jacked by local judiciaries more concerned about using 10% cash bail deposits to secure payment of fines and costs than they are requiring sufficient bail to guarantee appearance? The number of warrants issued for failure to appear continue to mount. Public safety minded Hoosiers and victims of crime are left frustrated and scared due to some judges and prosecutors showing indifference to holding criminals accountable for their actions. Hooray for those judges still requiring a bail bond to secure a defendant's appearance in court. There are still a few out there.
Indiana bail agents have pledged to bring public awareness to this abhorrent policy of discounting bail. Those Indiana courts who have embraced this policy have been flying under the radar for three decades relying on the public's lack of information about the true nature and intended purpose of the 10% bail scheme; revenue in lieu of appearance.
In defense of Indiana's law enforcement agencies, they simply do not have the manpower or resources to track down and arrest tens of thousands of fugitive some of which have moved out of the area though some live within a stone's through of the courthouse. Bail agents have the resources, time and financial incentive to get their clients to court and chase them to the ends of the earth if necessary when they fail to appear. There is no one more stressed than a fugitive released on a bail bond.
It's time to shine light on Indiana's deposit bail scheme and bring some bail reform back to this state by way of increasing the use of private sector bail bonds. With just a little effort we can make Hoosiers aware of this policy and I can assure you, they won't like it.