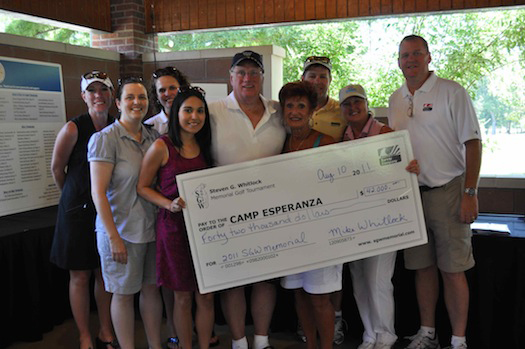 North Richland Hills,TX
– Camp Esperanza is an annual summer camp for kids ages six to 18 who are battling cancer. The camp with its staff of volunteers of doctors, nurses and layman can handle 140 kids. There's a waiting list. Former camp kid and current camp counselor Diana Garcia, who spoke during awards ceremony said the kids are laughing and giggling with excitement on the bus trip to camp and teary eyed on the trip back, they don't want to leave. It's a slice of Heaven one week a year for these kids to interact with other kids who can identify with their health issues and medical needs.
The Steven G. Whitlock Memorial Golf Tournament held its 22nd annual event this week at the Iron Horse Golf Course in North Richland Hills, Texas on August 10. Raising money to help kids battling cancer is the event's sole purpose. The Professional Bondsmen of Texas is a full partner in this annual event. Bondsmen from all over Texas and from many parts of the United States participated as a player or sponsor for our 2011 event. Several surety companies provided sponsorship as well.
In spite of these tough economic times and the fact that most bonding companies are seeing a down turn in their business they were still willing to open up their check books to support these kids. So much so, that the 2011 SGW Memorial raised $42,000 for Camp Esperanza, a 25% increase over the 2010 donation.
Thank you to all the sponsors and participants with a special thanks to the commercial bail bond community who have shown their big hearts and compassion for kids in need. In the words of Doreen Bruner, President of The Bridewell Foundation and producer of Camp Esperanza, "these bondsmen are very special people."
Click to view picture slide show