Even the suffocating heat of Texas in August could not wilt the enthusiasm and giving spirit of the golfers and volunteers participating in the 21st Annual Steven G. Whitlock Memorial Golf Tournament. Bondsmen from throughout Texas and across the country converged on Woodhaven Country Club in Fort Worth August 4th to help raise money for Camp Esperanza, a summer camp that hosts 140 kids battling cancer.
The cost of sending a kid to Camp Esperanza is approximately $500 and it is the sole focus of SGW to underwrite the cost of sending as many kids as possible to summer camp. These kids, who deal with the difficulties of their struggle with cancer throughout the year, look forward to a week of stress free fun with their fellow soldiers. We are here to help these kids.
This year's SGW event raised $31,000, which will fund the cost of sending more than sixty kids to Camp Esperanza in 2011. The involvement of The Professional Bondsmen of Texas, as the presenter of SGW, has breathed new life into this annual event which has entered its third decade, resulting in a significant increase in proceeds donated to Camp Esperanza.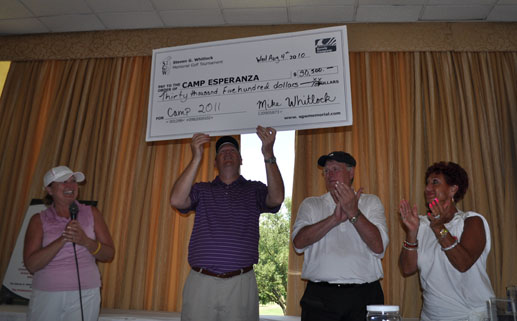 The involvement of bondsmen and surety companies underscores the generous nature of those working in the bail profession who, on a daily basis, must deal with people who find themselves in trouble with the law. It was a sight to see.
Thank you to everyone involved who contributed their time, money and energy to raise a bunch of money for kids who truly deserve our help. We hope to see you again next year.
PBT 3rd Quarter Meeting
The SGW golf outing was scheduled to coincide with the 3rd Quarter Meeting of the Professional Bondsmen of Texas. This meeting was held at the Hilton in Arlington Texas directly across from Six Flags over Texas, Texas Rangers Stadium and the brand new Dallas Cowboys stadium.
Attendance is never a problem at PBT meetings. Texas bondsmen are genuinely concerned about the future of bail in their state and actively participate in efforts to protect and preserve their industry.
First Assistant District Attorney Terri Moore from the Dallas County DA's office was the guest speaker. Terri Moore, who was invited by Camille Hodnett, owner of Bail Bonds by Camille in Ft. Worth, was the brains behind the idea of the
Conviction Integrity Unit
of the Dallas County District Attorney's office. This elite unit is charged with reviewing select cases of convicted felons to determine if they were legitimately convicted. Their efforts have resulted in exonerating 21 convicted felons who were subsequently released from prison.
The PBT legislative committee discussed their legislative agenda for 2011 recognizing that redistricting, budget and immigration will be the primary focus of the state legislature next year.
There was also a lot of talk of the recent
Ethics Opinion number 599
issued by the Texas Center for Legal Ethics. It concluded, "it is not permissible for a lawyer who serves as bail bondsman for his client in a criminal prosecution to add to the court's form of bond a provision in which the client agrees that, if the client fails to appear in court, the attorney is authorized to enter a "no contest" plea." It was determined that to enter a "no contest" plea is in the best interest of the lawyer (who avoids a bond forfeiture) and not the client.
Tremendous thanks goes to Houston bondsmen Mike and Randy Kubosh who funded the effort to obtain an opinion from the Texas Center for Legal Ethics. This effort took six months and more than twenty thousand dollars in legal fees.
PBT will be holding its Annual Meeting October 20 – 23 at the Menger Hotel in San Antonio. This annual meeting is always well attended and a lot of fun. I highly recommend attending even if you operate outside Texas.