Columbia, SC – I travelled to Columbia this week to attend a continuing education class held by the South Carolina Bail Agents Association. American Surety Company sponsored this particular class and with our sponsorship I was granted the opportunity to teach a segment of the course. I elected to speak about professionalism and the importance of conducting oneself in an appropriate manner when dealing with customers, clerks, judges and law enforcement. There is a steady stream of new licensees entering commercial bail so it is very important each retail owner guide and instruct their staff on the proper way to conduct themselves when dealing with the public and the courts.
As is customary in SCBAA continuing education classes, a representative of the Department of Insurance is invited to go over laws and regulations governing bail. Willie Seawright was in attendance at this meeting. Mr. Seawright is familiar to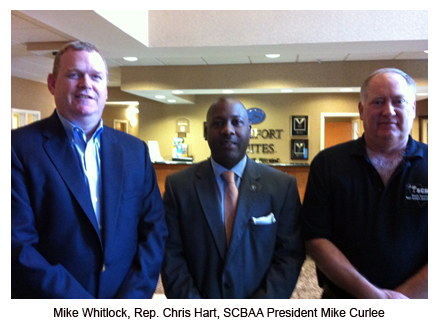 most bail agent in South Carolina. He took this opportunity to break the news to attendees that after a long drought the DOI will once again begin auditing bail agents to make sure they are in compliance with the statute.
The DOI is in the midst of conducting premium tax audits on all 26 commercial bail surety companies operating in South Carolina. In continuation of this effort on April 1st SCDOI will begin auditing 20 bail agents a month to make sure they are in full compliance of
SC 38-43-250
. The SCDOI will also be focusing on timely remittance of premiums to surety companies, security measures of powers of attorney and proper control of bond collateral. Bail agents will be fined directly for any infractions. Both surety producers and professional bail agents will be subject to an audit. Little or no notice will be given in advance of the audit and it has yet to be determined if bail agents will bear the cost of the exam.
Mr. Seawright also advised the surety company representatives in attendance of a forthcoming SCDOI bulletin requiring powers of attorney forms to include specific data fields. The Department is specifically concerned about the bail agent noting the amount of gross premium being charged to the client. It is from this number the Department will be able to calculate the correct amount due for premium tax on a specific bond.
While audits may not be welcomed by bail agents, according to Mr. Seawright they have been given a pass for nearly 20 years. Each bail agent should review
SC 38-43-250
to make sure they are in compliance as it only takes one violation to have your license revoked. Mr. Seawright made it clear the motivation is not to put bail agents out of business nor to generate revenue for the state, but to make sure all producers are in compliance with the code and that they remain so.
General Sessions Court has also started charging ten dollars per bond under an existing statute. Some counties are charging this fee at the time the bond is posted and some counties are invoicing bail agents at the end of each month. The fee cannot be passed along to the client.
On a brighter note, the SCBAA was successful in passing HB 3895 where a bail bond is exonerated after 36 months if there has never been an entry of forfeiture and the court has been given sixty days advance notice of intent to conclude the bond term.